Syria ceasefire is 'not dead' insists Kerry, despite attack on aid convoy
Comments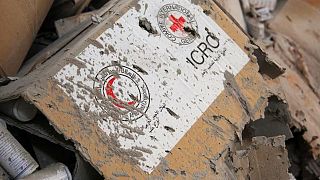 At talks on the sidelines of the UN General Assembly in New York on Tuesday, US Secretary of State John Kerry insisted that the Syrian ceasefire is "not dead", despite the devastating strike on a humanitarian aid convoy.
Accusations over who was behind Monday's deadly attack continue.
Denying it was involved, Russia has released drone footage it says shows the convoy was accompanied by a militants' pick-up truck, armed with a heavy mortar gun.
The Syrian armed forces of Moscow's ally President Assad also deny blame. But US officials have said they believe two Russian Su-24 warplanes carried out the strike near Aleppo.
At International #Syria Support Group meeting today, reaffirmed the need to reduce violence and allow safe, unimpeded flow of aid. #ISSGpic.twitter.com/dvJSImLqTe

— John Kerry (@JohnKerry) 20 septembre 2016
A total of 18 out of 31 lorries were destroyed. The Syrian Red Crescent said the head of one of its local offices and "around 20 civilians" were killed.
An utter disregard for the laws of war: The attack on @SYRedCrescent is unacceptable, jeopardizing aid for millions. https://t.co/Ply2eHWp8D

— ICRC Syria (@ICRC_sy) 20 septembre 2016
UN humanitarian spokesman Jens Laerke said: "If this callous attack is found to be a deliberate targeting of humanitarians, it would amount to a war crime. I call for an immediate, impartial and independent investigation into this deadly incident. The perpetrators should know that they will one day be held accountable for violations of international humanitarian and human rights law."
The United Nations has now pulled back from describing the attack as an air strike, saying it doesn't have conclusive evidence about what happened.
But given the danger, it has suspended all aid convoys into Syria.