Paris climate agreement "in force by end of 2016"
Comments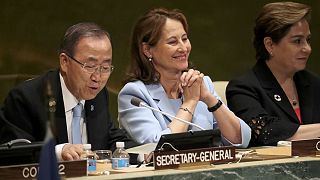 The Paris climate agreement came a step closer to taking effect on Wednesday (Sept.21) after 31 more countries formally signed up to it at the UN. They included Brazil, the world's seventh largest emitter of greenhouse gases, Mexico, Argentina and Sri Lanka. Oil-rich United Arab Emirates.
I'm confident that by the time I leave office the Paris agreement will have entered into force

UN Secretary-General
List of countries who have said they will deposit their #ParisAgreement Instruments of Ratification today: https://t.co/ynsqIv5HHI#UNGApic.twitter.com/NJ5UvRMuPh

— UN Climate Action (@UNFCCC) September 21, 2016
The Paris deal requires ratification by a minimum of 55 countries. Sixty have done so but together they only represent 47.5% of global emissions, falling short of the deal's 55% target.
UN Secretary General Ban Ki-moon applauded efforts so far but said there was work still to be done:
"We have crossed the one of the two thresholds, the 55 countries so its well over, now let us work harder to get all the 7.5 percent greenhouse emissions added more."
What once seemed impossible is now inevitable. I'm confident that by the time I leave office the Paris agreement will have entered into force," Ban added.
Ban Ki-moon's second five-year term ends on Dec. 31
Paris
Last December in Paris 195 countries submitted promises to curb their greenhouse gas emissions in order to limit the global temperature rise to 2C above pre-industrial levels, with an aspiration of keeping it to 1.5C.
Earlier this month the agreement received a boost after U.S. President Barack Obama and Chinese President Xi Jinping submitted their plan to join the agreement. The world's two biggest emitters account for around 40 percent of global greenhouse gas emissions.
With record breaking heat levels being recorded across the globe, experts say the deal cant come into effect soon enough. Prolonged droughts and rising sea levels are already threatening sections of the world's population.