Faxed bomb threat forced the closure and evacuation of all schools in Canada's Prince Edward Island Province
Comments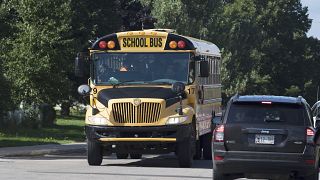 Canada's Prime Minister Justin Trudeau declared that all students and schools in Prince Edward Island are safe after authorities earlier today responded to an anonymous bomb threat.
All schools in Canada's Prince Edward Island province were under orders to evacuate after authorities received a threat claiming several bombs had been planted in schools throughout the province.
Royal Canadian Mounted Police Sergeant Kevin Baillie, said during a press conference Wednesday, the threat did not specify any particular school and that no suspects have been identified, reported the Canadian Broadcasting Corporation (CBC).
"If nothing is found, then I'll be satisfied that the actual threat was a hoax," said Baillie, according to the CBC. "Our message to parents is to stay calm. As far as I know there's been no injuries, there's been no threat found."
The bomb threat apparently was faxed to school authorities. A similar threat was made to schools in neighbouring Nova Scotia province and previously in the United States.
Police evaluated the safety of all the schools on the island, which is Canada's smallest province located along the Atlantic coast, but found nothing suspicious, nor any explosive devises.
Prince Edward Island is home to roughly 146,000 people.
The evacuation affected 19,000 students and the University of Prince Edward Island said it would close for the day.
Students across the province were being taken to safe locations, where their families could come and pick them up.
In Nova Scotia a community college campus was also evacuated in Halifax, the provincial capital, after an anonymous threat was made against the Nova Scotia Community College.
A bomb disposal unit was called in to investigate but found no suspicious items.
Also in Nova Scotia, a Nova Scotia Community College campus in Sydney also closed, as did Cape Breton University.
It is yet unclear if the threats against schools in Prince Edward Island and Nova Scotia are related.