Brazil: Ex-President Lula to stand trial on corruption charges
Comments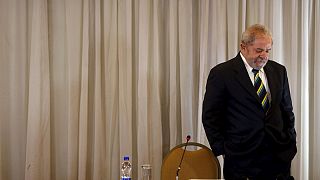 Brazil's former president Luiz Inacio Lula da Silva is to stand trial for allegedly accepting over one million dollars (800,000 euros) in bribes in connection with the corruption scandal at the state-run oil firm Petrobras.
Seventy-year-old Lula has denied any wrongdoing and says the accusations are politically motivated.
"I've just learned now that Judge Moro has accepted the charges against me, even if the charges are a farce, a big lie, a great pyrotechnic spectacle in this country. (…)
I want to be judged as any Brazilian citizen under our constitution. I don't want any privileges, what I don't want are lies."
The judicial action against Lula has been anticipated for some time. The former president believes it is motivated by attempts to tarnish his record.
Brazil's Lula da Silva Says Criminal Charges Aimed at Reversing His Successes: Former Brazilian President Lui… https://t.co/vUOP6g21ty

— harlow keith (@hkeith8019) September 16, 2016
The move to indict Lula was taken by Judge Sergio Moro and comes as the country is being buffeted by major political turbulence.
Lula's hand-picked successor Dilma Rousseff was found guilty by the Senate of breaking budget rules and dismissed from the presidency last month.
Her successor, former vice president Michel Temer, has abruptly pulled Brazil to the political and economic right, trying to bring the country out of its worst economic recession since the 1930s.
Lula has been charged with three counts each of corruption, which carries a maximum sentence of 16 years per count, and money laundering, with a possible sentence of up to 10 years per count. If found guilty, however, the sentence would be determined by the judge.
The money that the ex-president allegedly received was laundered through the purchase and renovation of a beach apartment according to prosecutors. The flat was built by a construction company implicated in the scandal.
Lula's wife, Marisa Leticia, and six others have also been indicted.
Lula, who served as president from 2003-11, has been an iconic and powerful political force in Brazil for two decades. He is seen as a possible candidate for the 2018 presidential elections, but a criminal conviction would bar him from running.