Attacker shot after storming Israeli embassy in Ankara
Comments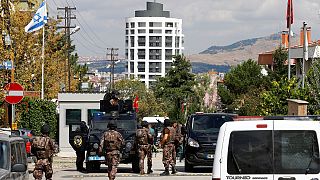 An Israeli official said an attacker who tried to storm the Israel embassy in the Turkish capital has been captured.
Footage of scene in front of #Israel(i) embassy in #Ankara before assailant in shot. No other injuries but assailant pic.twitter.com/qzmBnPHuKS

— Anna Ahronheim (@AAhronheim) September 21, 2016
According to a spokesman for Israeli's foreign ministry, the attacker was apparently armed with a knife.
Turkish private broadcaster NTV said the incident happened as two people tried to enter the embassy in Ankara.
Turkish police said the assailant shouted "Allahu Akbar" or "God is greatest" outside the embassy building before he was shot in the leg and wounded by a local security officer.
It was not immediately clear if there was a second would-be attacker. Turkish media reports had initially suggested that there had been two.
The Ankara governor's office said in a statement that the attacker, who appeared to be mentally unstable, has ignored a police warning to stop.
Turkish security guard shoots knife-wielding suspect after attempt to enter embassy in #Ankarapic.twitter.com/Inl92zdTqn via daniele_grassi_</a></p>&mdash; ARnews 1936 (ARnews1936) September 21, 2016