At least 32 people killed in DRC during two days of violence
Comments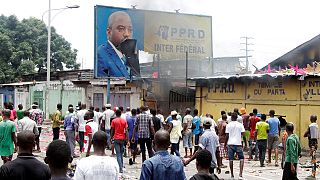 At least 32 people have been killed in Democratic Republic of the Congo (DRC) over the last two days, according to a police spokesman.
The government initially said the death toll stood at 17, and according to Human Rights Watch, 44 people died in the violence.
There has been widespread anger over election delays that would allow President Joseph Kabila to stay in power beyond the end of his term.
After serving two elected terms, Kabila is ineligible to stand in the next election, which is planned for November 27.
World powers have become increasingly exasperated with Kabila's administration. French President Francois Hollande has said the clashes were caused "by the Congolese state itself," and urged authorities to respect the constitution and hold elections on schedule.