Obama urges leaders to open hearts to refugees
Comments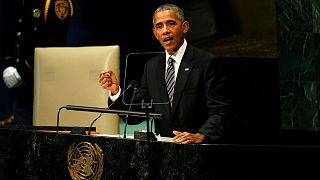 In his final speech to the UN General Assembly President Obama has urged wealthy nations to do more to help refugees.
Calling on leaders to open their hearts, Obama stressed that it was only through co-operation that the world's greatest challenges could be addressed.
"We have to imagine what it would be like for our family and our children if the unspeakable happened to us. And we should all understand that ultimately our world would be more secure if we are prepared to help those in need," he said.
Obama also warned about the dangers of intolerance, isolationism and nationalism, reserving particular criticism for Russia.
''If Russia continues to interfere in the affairs of its neighbours, it may be popular at home, it may fuel nationalist fervour for a time, but over time it's also going to diminish its stature and make its borders less secure.''
In addition to his criticism of Moscow, Obama urged nations to reject authoritarianism and embrace more open societies.
Defending his record, he also argued that the US had been rare superpower in human history and a force for good, able to think beyond narrow self interests.