Rio Paralympic Games end in Brazilian style
Comments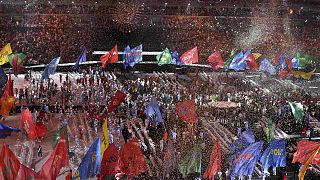 After 11 days showcasing 23 different sports, the 2016 Paralympics have ended in Rio with a colourful closing ceremony.
It's a beautiful night to light up the sky & celebrate the end of the Rio Paralympic Games! #ClosingCeremony PC: OISpic.twitter.com/khgi10kUy3

— snap: paralympics (@Paralympics) September 18, 2016
Thousands of spectators filed into the iconic Maracana stadium where singers, dancers and Brazilian music completed what Sir Philip Craven, the president of the International Paralympic Committee said had been uniquely Brazilian and wondrous Games.
During nearly two weeks 528 medals were won and over 200 world records set. China dominated the medals table winning 239 with Great Britain coming second with 147.
A firework display ended the celebrations but not before tributes were paid to the Iranian cyclist who died in a crash on Saturday.
The Paralympic flag was handed over to Toyko where the next Games will be held in 2020.