False alarm triggers major security alert in Paris
Comments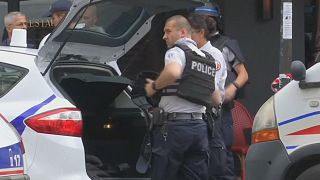 A major security alert, triggered by a false alarm, has caused panic in central Paris.
There were claims of hostages being taken in Saint-Leu church in Chatelet, according to reports.
A major police operation was launched, involving more than 100 officers.
Cordons were thrown in place and people advised to avoid the area.
"There was a moment of panic," said waitress Saba Nouira, who works nearby.
"We had customers in the restaurant and they told us to hide, to put people in the cellar. We protected them because there were girls who were almost collapsing."
Another local worker, Pascal Baroukh, added: "People are definitely traumatised, me just like everyone else and, among my friends, we talk about it all the time. That's the topic of conversation these days."
Interior minister Bernard Cazeneuve confirmed the false alarm and said the circumstances of what happened were to be determined.
France is on high alert after a series of attacks by Islamist militants, that have killed more than 230 people since January last year.