Venezuela: opposition push for speedier recall referendum
Comments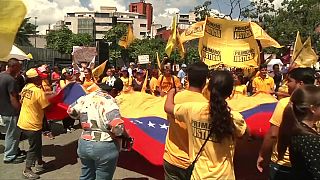 In Venezuela, further protests have been held against President Nicolas Maduro's rule, though far smaller than the huge opposition march seen earlier this month.
The latest anti-government rally in Caracas came as the country's national election board once again delayed a possible recall referendum.
The timing of that is key and could decide whether the ruling socialists stay in power, even if Maduro is kicked out of office.
"They must recognize the right of the Venezuelan people to have a recall referendum. We will not stop fighting and we will not allow them to make a mockery of the constitution.
It is established in Article 72 of the constitution,'' said one man.
''Maduro, we want you to go! The people are telling you! Please! Go now! We don't want you! The people have decided, we don't want you in Venezuela!" said another woman.
Chronic food shortages and runaway inflation have seen Maduro's popularity plummet.
If a referendum is held before January 10 next year, it would force new elections, which the opposition hope to win.
However, if the recall referendum takes place in 2017, and Maduro loses, the vice-president would take over for the second half of the president's six-year term, ensuring the Socialists stay in power.