UEFA president Ceferin to re-examine controversial new Champions League deal
Comments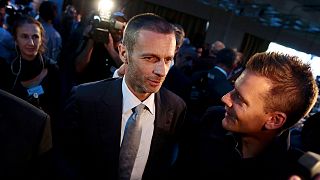 Aleksander Ceferin cut a relaxed figure on his return home to Slovenia two days after being elected as President of European football's governing body UEFA.
The 48-year old however was soon down to business and seemingly top of his agenda was to re-examine the recent Champions League deal agreed upon by the executive committee that guaranteed England, Germany, Italy and Spain four direct places in the competition as of 2018.
He said: "The communication was not right. The national associations and clubs didn't know anything about it so that is a problem of UEFA and it shouldn't happen again. So, I have to come there, see the deal and then decide what to do."
Critics of the deal, including Ceferin, believe this heavily favours Europe's top four leagues and is detrimental to the smaller leagues of the continent.
Ceferin, who has been head of the Slovenian FA since 2011 was elected Uefa President on Wednesday in Athens.
He beat the only other candidate, Dutch FA president Van Praag by 42 votes to 13.
He succeeds banned former chief Michel Platini and takes over the remaining two and a half years of the Frenchman's tenure.