Paris police clear more than 1,500 migrants from street camp
Comments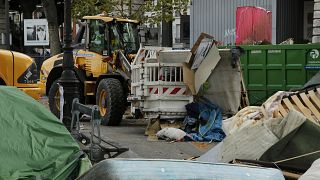 Police in Paris have evacuated a camp holding around 1,500 migrants who have been living on the streets of the French capital for weeks.
Two operations, one for women and children and another for men, were launched on Friday morning on a stretch of pavement between Jaurès and Stalingrad Metro stops just west of Montmartre.
Most were transported to temporary shelters, where they are expected to receive food and medical treatment.
Their future status as refugees will also be assessed. As regional prefect Jean-François Carenco explains:
"We cannot take charge of those who do not want to seek asylum in France. Either you want to be in France and you request asylum or you don't just come to France. Coming to France is something you must want and those who don't want to stay, don't stay. We don't take charge of those who do not seek asylum."
Most of the people relocated in Friday's operations were from Afghanistan, Eritrea and Sudan and it's thought that many were headed for Calais, in hope of stowing away on a lorry bound for Britain.
According to the Mayor of Paris, several dozen migrants arrive on the streets of the city each day.
An official centre to house migrants for several days and arrange more permanent shelter thereafter is scheduled to open in Paris in mid-October in the hope of taking thousands of people off the streets.