Former Italian president Carlo Azeglio Ciampi dies at the age of 95
Comments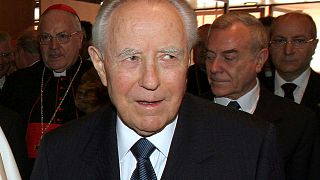 Former Italian president, prime minister and central bank governor Carlo Azeglio Ciampi has died at the age of 95.
As treasury minister he is credited with leading Italy into the euro currency.
È morto Carlo Azeglio Ciampi: a Rieti nel 2005 / FOTO E DISCORSO – https://t.co/RCc9OhPd5Tpic.twitter.com/itcOrnfWwO

— Rieti Life (@Rietilife) September 16, 2016
He also selected the design of the Italian 1-euro coin, Ciampi chose the Vitruvian man of Leonardo da Vinci.
Ciampi claimed that he wanted the design to send the message that money was at the service of human kind and not the other way round.
He leaves a wife and two children.