UK central bank signals new rate cut to head off Brexit vote slowdown
Comments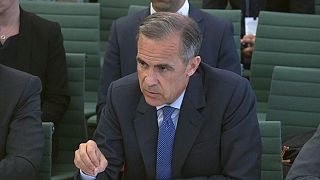 Britain's central bank has left the cost of borrowing unchanged but signaled a probable cut in the benchmark lending rate to just above zero later this year.
Currently it is at a record low 0.25 percent, having been halved in August.
At their latest meeting, policymakers – led by Governor Mark Carney – also said the Bank's quantitative easing programme would remain at the same level for now.
With QE it buys government and companies' bonds to pump money into the economy and stimulate growth.
MPC holds #BankRate at 0.25% maintains government bond purchases at £435bn and corporate bond purchases at £10bn pic.twitter.com/G0ENV2Vpid

— Bank of England (@bankofengland) September 15, 2016
Members of the Monetary Policy Committee (MPC) remain concerned about the effects on Britain's economy of the UK's vote to leave the European Union.
They did note recent economic numbers have been stronger than anticipated.
But they continued to expect that the uncertainty caused by the vote would drag on the economy as Britain and the EU haggle over the terms of their new relationship which will probably reduce access for British companies to the bloc's single market.
Central bank staff estimated the UK economy would grow by 0.3 percent in the July-September period, better than their forecast in August of just 0.1 percent.
However, 0.3 percent would be half the second quarter's level of growth.
Monetary policy summary and minutes of the MPC meeting ending on 14 September 2016 https://t.co/TbQc7xjdUd#BankRate

— Bank of England (@bankofengland) September 15, 2016