Russian sociologist Denis Volkov muses on the country's electoral mood
Comments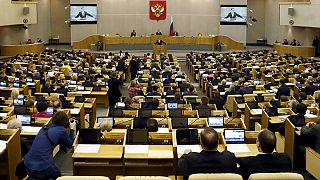 Serguei Doubine, euronews, Lyon:
To better understand in what mood and with what expectations Russians head to polls, we're joined by Denis Volkov, sociologist from Moscow-based pollsters Levada-Center.
I think public opinion is being drawn away from this election...

Sociologist, Levada-Center
Welcome to euronews.
Denis Volkov, sociologist, Levada-Center:
Thank you.
euronews:
Denis, the polls conducted by your Center as well as, albeit to the lesser degree, by two other Russian pollsters, indicate that ratings for the United Russia party are falling. Why do you think that is?
Denis Volkov:
This downward trend is not new, it started about a year and a half ago. After the annexation of Crimea in March 2014, support for United Russia started to rise and peaked in May to June of 2015 – similar to Putin's ratings.
After this United Russia's ratings started to slide, slowly but surely. Mid-2015 it stood at 50% of all respondents, including undecided voters, then it slid to around 40% by spring 2016, and now is around 30%. But bear in mind, this 30% will translate for United Russia to about 50% of the real vote at the polling station, and even more if we take into account redistribution of votes cast for parties that ultimately won't pass the barrier into the Parliament.
euronews:
Among the reasons for this slide observers name the unpopular decision to not index the pensions [on inflation] and the number of new parties allowed to take part – this drags attention away from the four main Parliament factions. Do you see these as decisive factors?
Denis Volkov:
Partly all that is true but I think this slide is mostly driven by the normalisation, by cooling down of emotions after "Crimean enthusiasm" started to wane. Economic factors are important, and Russians do feel the pinch of the crisis – but the crisis acts on them very slowly. People are slow to realise, or feel personally, its effects, and then they adapt quickly.
New parties – yes, but most of them are unknown to the larger electorate. Yes, they 'dilute' the lists a bit and will 'steal' a bit of support from United Russia – but, I repeat, a decline in ratings is mostly driven by the long-term global trend of a ruling party simply losing its popularity.
euronews:
And how can this dissatisfaction influence the turnout?
Denis Volkov:
I think the turnout will be influenced more by the fact that the election was moved from December to September [people still go to the country on weekends and summer campaigning was largely unseen]. In December the turnout is traditionally high but in September it's not. It's hard to give an exact prediction but it will be less… And there's less general interest towards this vote; people aren't debating it on their commute, not discussing it. I think public opinion is being drawn away from this election – maybe the authorities are interested in less turnout, that way only highly disciplined voters will come, those who vote not so much to express their view and influence the State Assembly's [Duma] composition, but out of habit, as a civic duty, because it has to be done.
euronews:
And, finally, what will be the dominant trend – desire to change or apathy?
Denis Volkov:
I think apathy – but new liberal parties are to blame here too, because they virtually haven't run any real campaign in big cities where their main electorate lives. So the main qualm with them – and even from their supporters – is that they're invisible, that people can't see the changes within those parties, that these parties appear just before the election, nobody knows anything about them, and that they only talk instead of act.