Real Madrid coach Zidane says never-say-die attitude key to opening round victory
Comments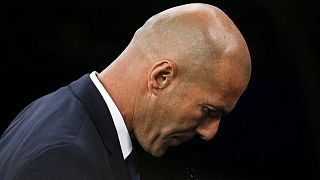 Holders Real Madrid scored two very late goals to beat Portuguese side Sporting 2-1 and kick-start their title defence on a winning note.
Cristiano Ronaldo struck with one minute remaining while Alvaro Morato scored deep into stoppage time to snatch the three points.
After the game coach Zinedine Zidane said: "I do not know if this is fair or not, but what is clear is that we have believed until the end and here is the proof that you have to play until the end, until the last minute, you have to make changes. The good thing about us is that we are close, a tight group, focused and able to make a difference any minute."
Up next for the defending champs in a fortnight is is a tricky trip to Borussia Dortmund who thumped Legia Warszawa 6-0 in their opener.
Manchester City began their quest for a first Champions League title with a 4-0 beating of Borussia Monchengladbach.
Sergio Aguero struck a hattrick while Kelechi Iheanacho completed the scoring.
Coach Pep Guardiola was almost surprised at the victory.
He said: "I am so happy now, believe me I am so happy as I knew how difficult the game was going to be, and in this group with Barcelona if we did not get points tonight and against Celtic it would be tough to go through. We have five games left but it was so important."
The win maintained City's 100 per cent start to the season under new coach Guardiola, who has reached at least the semi-finals of Europe's top club competition in seven years as a manager.