Meet the YouTube creators chosen to interview Jean-Claude Juncker
Comments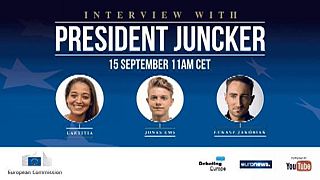 Three young, European YouTube creators interview European commission president Jean-Claude Juncker this morning after his annual State of the Union address in Strasbourg yesterday.
The budding video stars will ask both personal questions and a selection sent in by their fans using the hashtag #AskJuncker.
The event, which is the first of its kind in Europe, will take place in Brussels and be streamed live on the YouTube platform and euronews.com at 11am CET.
It follows the same formula tested in America in January this year, during which President Barack Obama responded to questions put to him by young YouTube stars.
So who are the lucky creators chosen for the interview?
Laetitia Birbes
French environment and recycling enthusiast Laetitia (32) runs a channel called "Le Corps La maison L'esprit Laetitia" (Body Home Mind Laetitia) on which she shares her values and tips with 61,000 subscribers.
Of the interview with Juncker Laetitia explains that she is "happy to act as a spokesperson for the French and European youth in front of a politician who represents the highest authority in Europe."
When speaking about the future of the European Union she expressed that she hopes humans will prove more important than trade relations and that the EU will be more ecological.
Jonas Ems
With over 1 million followers 19-year-old Jonas Ems from Germany makes comedy videos about his life. Such is his success that in 2015 he published a book about his experience as a YouTube creator.
Łukasz Jakóbiak
Łukasz Jakóbiak, a 33-year-old creator from Poland, hosts his own talk show "20m2" on the YouTube platform. Having trained as a journalist he started his channel in 2012 and now has over 300,000 subscribers.
Aside from his notoriety online, he is also well known for making several appearances at conferences, where he speaks about motivation and personal development, both in Poland and abroad.
Łukasz sees his interview with Juncker as a challenge and hopes to discuss the European Commission President's objectives and motivations.