Environmental groups slam Hinkley Point nuclear power plant deal
Comments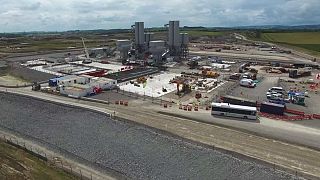 Britain has given the go-ahead for the first new nuclear power plant for decades, a decision which doesn't sit well with environmental groups.
The government said it would proceed with the Hinkley Point C project in Somerset, financed by French and Chinese money, with the proviso that safeguards were included for foreign investment in future infrastructure projects.
The announcement comes after the government halted the deal to run a review. Explaining the changes to parliament, the UK Business Minister Greg Clark said:
"It's important that the right balance between welcoming foreign investment and ensuring that it serves the national interest is made. That is exactly what these changes will achieve. The investment will secure seven per cent of the UK's electricity needs for 60 years, helping replace existing nuclear capacity which is due to be decommissioned in the decade ahead."
He also explained how the controlling stake from French firm ESF had been altered:
"The Government will now be able to prevent the sale of EDF's controlling stake prior to the completion of construction. This agreement will be confirmed in an exchange of letters between the Government and EDF. Existing legal powers, and the new legal framework, will mean that the Government is able to intervene in the sale of EDF's stake once Hinkley is operational."
French state-controlled EDF said it had agreed with the government to retain control of the 21 billion euros project and would sign the deal "in the coming days".
China General Nuclear Power Corporation (CGN) – the project's Chinese state-backed investor – and business lobby groups also welcomed the decision on the Hinkley deal.
"We are very happy the British government has approved the project," CGN said in a statement. They are also hoping to win contracts to build new nuclear power stations in Essex and Suffolk.
Environmental lobby Greenpeace slammed the decision saying the plant would not produce competitively priced, low carbon power in the near future, and pushed the government to invest in renewable energy at an affordable price. Green groups are arguing that the cost of subsidising renewables has dropped dramatically, and solar as well as on and offshore wind energy could be a solution.
Another criticism levelled at the deal was that the price of electricity was almost double the wholesale price. "It is extraordinary that they have not reviewed the price per unit of power," said Barry Gardiner, the opposition Labour Party's energy spokesman.
The two new reactors are expected to be up and running by the middle of the next decade.