Locals pelt riot police in China "democracy" village
Comments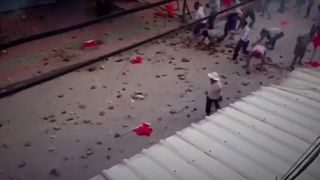 In Wukan, a fishing village in southern China, clashes broke out on Tuesday between locals and riot police, who fired tear gas and rubber bullets at them.
The violence erupted after early morning police raids led to the arrest of anti-government activists, and less than a week after a democratically-elected local leader, Lin Zuluan, was jailed by authorities on corruption charges.
Locals claim Zuluan was framed, and that the crackdown is meant to silence their village.
Wukan reached international fame five years ago when an uprising led to the ousting of the ruling Communist leaders and to democratic local elections.
In Pictures: Violent standoff, raids and tear gas as police arrest 13 in Wukan … https://t.co/wxQk3dD4zupic.twitter.com/2XQJyDqeV2

— Hong Kong Free Press (@HongKongFP) September 13, 2016
Situation in #Wukan: Police arrested 13 villagers, elected chief was jailed 3+ years, reports of clashes, tear gas https://t.co/3DhutrCUXa

— Joanna Chiu 趙淇欣 (@joannachiu) September 13, 2016