Kaepernick racial injustice protests divide US opinion
Comments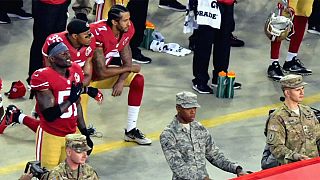 San Francisco 49ers backup quarterback Colin Kaepernick continues to divide opinion in the United States over him refusing to stand for the national anthem prior to matches.
Kaepernick is protesting against what he has called racial injustice and police brutality in the country but former NFL quarterback-turned TV pundit Trent Dilfer recently suggested he should 'keep quiet and sit in the shadows because he's a backup'.
Kaepernick responded to the comment by saying: "That is the most ridiculous comment I have ever heard. The fact that you say, 'You're a back-up quarterback stay in your place, that's the issue. I mean, to me you're telling me that my position is a backup quarterback and being quiet is more important than people's lives. Now I would ask him to really have a conversation with the families of people that have been murdered and see if he still feels that way because I bet you he doesn't, just because he hasn't experienced that type of oppression."
Many other players have joined Kaepernick in his protest, some kneeling, some standing with their fists in the air – reminiscent of the raised-fist salute by black athletes Tommie Smith and John Carlos during their medal ceremony at the 1968 Olympic Games in Mexico City.
Carlos, now 71, backed Kaepernick and the others.
He said: "You know we didn't throw no bombs at nobody in '68. Colin didn't throw no bombs in 2016. Those guys standing up on the side or hugging one another, they ain't drop no bombs but what they are saying is 'hey man something is broken and it's time that we fixed this.' Not tomorrow, not next year, but start to fix it today and it's growing."
The protest has angered some fans, who see it as disrespectful to the nation while others see it as a welcome high-profile boost to the Black Lives Matter movement.
Whatever the opinion it does continue to provoke conversation on the topic, a conversation that is getting louder and louder and becoming global.
3 players for the Tennessee Titans raised Black Power fists in protest of American injustice. pic.twitter.com/podNVSVaQ7

— Shaun King (@ShaunKing) September 11, 2016
A better view of Kenny Stills, Michael Thomas, Arian Foster & Jelani Jenkins taking a knee for injustice in America. pic.twitter.com/MlYyuTVUhF

— Shaun King (@ShaunKing) September 11, 2016