Israel: former President Shimon Peres in induced coma following stroke
Comments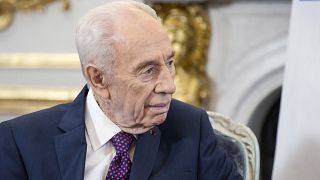 Former President of Israel Shimon Peres is in a delicate condition in a hospital near Tel Aviv after suffering a stroke.
The Nobel Peace laureate has been put into an induced coma, according to a statement from his office.
His doctors say he will be closely monitored in the coming hours.
He was reportedly conscious and stable when he was rushed to hospital on Tuesday evening, but has now been sedated and is breathing with the help of a respirator.
In politics since the founding of Israel in 1948, Peres has held almost every major political office, although he never won a general election outright in five attempts between 1977 and 1996.
The 93-year-old retired from political life in 2014, but has been publically active since, working for the Peres Centre for Peace which encourages closer links between Israelis and Palestinians.