Paralympian of the year Marieke Vervoort will choose euthanasia, but not yet...
Comments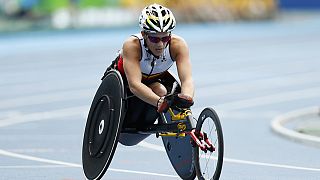 Marieke Vervoort was named Paralympian of the year in both 2012 and 2015, but that's not what the media were focussing on ahead of the Belgian's arrival in Rio.
I am still alive and still going to enjoy every little, little moment of my life

Paralympian
This year's 400m wheelchair silver medallist, lives with a degenerative muscle disease and is seeking to put right reports she will soon choose to die by euthanasia.
Vervoort confirmed Rio would be her last Paralympics. In 2008, she opted for an assisted death in Belgium, where euthanasia is legal, but has not said when she will choose to act on it.
Paralympian Marieke Vervoort says she won't choose euthanasia 'yet.' Why are we reluctant to talk about euthanasia? pic.twitter.com/F21GBgztAN

— LBC (@LBC) September 12, 2016
"It's very hard to live with so many pain and suffering and this unsureness," she told the media.
"I am still alive and still going to enjoy every little, little moment of my life."
"I hope that other countries, like Brazil, can talk about it, that it is not taboo anymore. Like me, I signed my papers in 2008. Look now, we are in 2016 and I won yesterday a silver medal. It's really a wonder. So, I am really happy."