Syria: top commander of former Nusra group 'killed' near Aleppo
Comments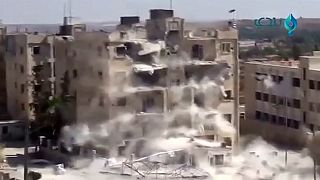 A top commander of the militant group formerly known as al-Nusra Front has been killed in an airstrike near the embattled Syrian city of Aleppo, rebel sources have said.
The targeting of Abu Omar Sarakeb of the Jabhat Fateh al-Sham group comes amid further fierce fighting in the embattled northern Syrian city and its surrounding areas.
On Thursday pro-regime forces reportedly made big gains in Ramousah district, further sealing off Aleppo's opposition-held eastern neighbourhoods.
Meanwhile, diplomatic efforts to find a lasting truce in Syria's complex civil war have so far proved fruitless.
US Secretary of State John Kerry, who had initially delayed his departure to Switzerland, is due to hold talks with his Russia counterpart Sergei Lavrov in Geneva later on Friday.
It is believed the latest deal on the table between Washington and Moscow aims, among other things, to broker a lasting ceasefire around Aleppo, while also allowing humanitarian access to conflict-hit areas.
The two-sides are also said to be discussing joint US-Russian airstrikes against groups both countries designate as terrorist.