Iranians protest against Saudi rulers as Hajj gets underway
Comments
By
Keith Walker
with
REUTERS, AFP, BBC PERSIAN, STRATFOR, EURONEWS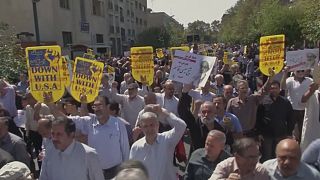 Thousands of Iranians have protested in Tehran against Saudi Arabia's ruling family, shouting "death to Al Saud the traitors" as the annual Hajj pilgrimage to the Saudi city of Mecca gets underway.
[Saudia Arabia] have united with the Jews, and are servants of America.

Iranian protester
It comes after Saudi Arabia's top religious authority said that Iran's leaders were not Muslims, sparking a harsh exchange with Iran.
Iranians won't be able to attend this year's pilgrimage after talks between the regions Sunni and Shiite powers about arrangements broke down in May.
"How are you going to invite 1.5 million pilgrims and not even allow yourself to think about the security measures?" Said Ohadi, head of Iran's Hajj Organisation, told the Agence France-Presse news agency (AFP).
Protesters also chanted slogans against the US, Britain and Israel.
"They have reached a climax of unscrupulousness and treachery," said Iranian protester Zabihullah Pirhayati. "They have united with the Jews, and are servants of America. They are serving America's goals, and doing whatever that would benefit Israel. They have stabbed Muslims in the heart."
"We don't have any problems with the people of Saudi Arabia," Habibullah Abulfazli said. "They are Sunnis and are our brothers. But the Al Saud family are puppets of Britain and America, they are fighting proxy wars against Shiites and against all Muslims."
Increasingly bitter relations
The tension dates back to 2014 when Saudi authorities sentenced prominent Iranian cleric Nimr al-Nimr to death.
Tehran recently stepped up criticism of Riyadh over its handling of last years Hajj during which at least 2,300 people were killed in a stampede, according to an AFP count.
Tehran has said the death toll was far higher.
"Seven thousand people were martyred, were killed, from 39 countries," Ohadi said.
Saudi Arabia says the figure was only 769, but has refused to release the details of its investigation.
Iran and Saudi Arabia trade insults as Muslim pilgrims prepare for the annual hajj https://t.co/DUma4D75i4pic.twitter.com/2Shv3EPYMr

— New York Times World (@nytimesworld) September 6, 2016
Hajj security talks break down
Ohadi said that during this year's negotiations the Saudis simply fell back on verses of the Koran stating that anyone who enters Saudi Arabia has "full security".
"Last year we had those verses in the Koran too."
Ohadi said the last straw in the hajj talks was a demand from the Saudis that Iranian pilgrims "cannot have any contact with any Muslim from any other country", despite the Koranic verses' emphasis on the importance of mingling with Muslims from around the world during the pilgrimage.
His Saudi counterpart Mohammed Bentin told him there were concerns that Iranians would try to "convert" Sunnis to their Shiite branch of Islam, Ohadi said.
"I said, minister, this is really funny. If you are not ready to accept the Iranians, please very frankly and transparently say that you are not going to allow Iranians. Why? Because you are afraid they will expose what happened last year."
'Unacceptable' demands
Saudi Arabia has countered that Tehran made "unacceptable" demands during the talks, including the right to organise demonstrations "that would cause chaos".
But right from the start, Ohadi said there was "very bad hospitality" and "weird attitudes" from the Saudis — including a refusal to give delegates diplomatic entry, or even cars to their hotel.
Ohadi said depriving the Iranian faithful of the chance to perform the hajj was "unacceptable", especially given the 15-20 year waiting list.
The Saudis "believe they are the owners — that Mecca and Medina are their properties," he said.
"No — they are the properties of Islam."
---