Hewlett-Packard Enterprise sells software business
Comments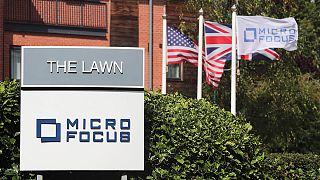 Hewlett-Packard Enterprise has slimmed down further by selling its software business.
The buyer is British firm Micro Focus in a deal worth $8.8 billion (7.8 billion euros).
HP went into software just five years ago with the ill-fated purchase of Autonomy, a British company which turned out to worth much less than the Silicon Valley computer giant paid for it.
Hewlett-Packard Enterprise is refocusing on areas such as networking, storage and technology services after splitting last year from its sister company – computer and printer maker HP Inc.
WATCH: CEO Meg Whitman on CNBC</a> discussing <a href="https://twitter.com/HPE">HPE's Q3 results & the spin-merge of non-core SW assets w/ microfocus</a> <a href="https://t.co/hYqZDsRtHp">https://t.co/hYqZDsRtHp</a></p>&mdash; HPE News (HPE_News) September 8, 2016
Micro Focus will pay $2.5 billion in cash to HPE and HPE shareholders will own 50.1 percent of the combined company that will operate under the name Micro Focus and be run by its executives.
It is the second big deal involving a British company since the June 23 Brexit vote that many feared would put the brakes on mergers and follows the sale of microchip designer ARM Holdings to Japanese internet giant SoftBank Group