Facebook backs down over 'Napalm girl' photo
Comments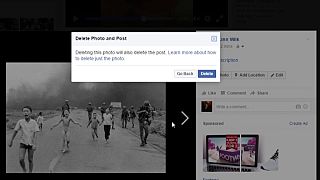 Facebook has reinstated the iconic photograph of a naked girl fleeing a napalm attack during the Vietnam War. The u-turn came after the editor of Norway's largest newspaper, Aftenposten, published an open letter to the social media giant's founder Mark Zuckerberg, arguing the network's decision to delete the image undermined democracy.
"I say loud and clear that what's happening now is dangerous. I want to start a discussion, which is the role of the media, to speak up even when things are uncomfortable and to create discussion. So we'll have to wait and see what the result would be," Espen Egil Hansen, the Editor-in-Chief of Aftenposten said.
Initially defending its decision, Facebook said the Pulitzer prize-winning photo violated its community standards on child nudity grounds.
Sparking outrage in Norway, it saw the country's conservative prime minister, who had the image taken down after a post, call on the firm to review its editing policy.
"People under 30 today, almost 90 percent of them have social media as their primary source of information and news. If we then have someone who edits out historically important photographs, who edits our own history, we lose something important in how we understand society and how we develop as a community,'' Erna Solberg, Prime Minister of Norway said:
Despite now admitting the picture's historical importance outweighs protecting the community, Facebook founder Zuckerberg has been criticised over the platform's censorship rules. He has said, he doesn't want his firm to become a news editor.