Greece conference to tackle migrant crisis
Comments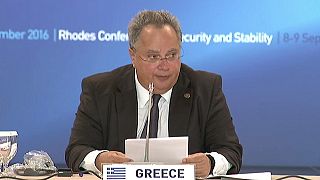 Foreign Ministers and high-ranking officials from Mediterranean countries have met in Greece to search for solutions to the migrant crisis.
It comes under the guise of the Rhodes Conference for security and stability.
Organised by the Greek Foreing Minister it aims to tackle the pressures of ever increasing humanitarian needs,asylum systems not fit for purpose and threats to social cohesion among other pressing regional issues.
#RhodeSeConf participants visit beautiful #Lindos and its amazing Acropolis pic.twitter.com/cBAZaZJR0w

— Υπουργείο Εξωτερικών (@GreeceMFA) September 8, 2016
Greek Foreign minister, Nikos Kotzias said:
"Migrants and refugees have needs that can only be met through growth. I suggest that we improve coordination among our competent authorities, with a view to having cross-border programs proposed, approved and implemented. To work towards specific regional and broader, even global, cooperation."
The closure of the borders, coupled with the EU-Turkey deal means that Greece is left to struggle with the tens of thousands of migrants stranded in run-down camps.