US has moral obligation to Laos, says President Barack Obama
Comments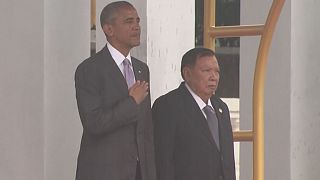 Barack Obama is the first US President to visit Laos. He arrived on Monday to attend two regional summits. The US's "secret war" from 1964-73 made Laos the most bombarded country per capita in history.
"I also know that the remnants of war continue to shatter lives here in Laos," Obama said.
"Many of the bombs that were dropped were never exploded. Over the years, thousands of Laotians have been killed or injured – farmers tending their fields, children playing. The wounds – a missing leg or arm – last a lifetime".
The US has announced an additional $90 million in aid to Laos over the next three years to help clear the unexploded ordnance, which have killed over 20,000 people.
The aid will help support UXO victim's rehabilitation including orthotics and prosthetics.
Whilst previous administrations shirked responsibility, Obama admitted that the US has a moral obligation towards Laos.