UN human rights chief blasts Western 'demagogues'
Comments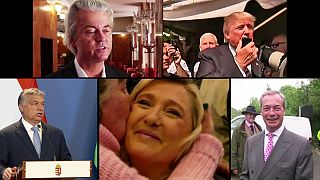 The United Nations High Commissioner for Human Rights has accused U.S. presidential candidate Donald Trump and prominent nationalists in Europe of peddling fear and hate in the same way as Islamist extremists.
We must pull back from this trajectory

U.N. High Commissioner for Human Rights
At a gala dinner on Monday, Zeid Ra'ad Al Hussein lashed out at politicians including Dutch nationalist Geert Wilders, French far-right leader Marine Le Pen and Britain's anti-EU campaigner Nigel Farage.
There were none of the usual diplomatic niceties in Hussein's speech, which drew a standing ovation.
"I do not equate the actions of nationalist demagogues with those of Daesh, which are monstrous, sickening, and Daesh must be brought to justice, but in its mode of communication, its use of half-truths and oversimplification, the propaganda of Daesh uses tactics similar to those of the populists," he said.
U.N. human rights chief blasts 'demagogues' of Western nations https://t.co/EsaLAUxhg3pic.twitter.com/CBlsSz5Hsi

— New York Times World (@nytimesworld) September 6, 2016
UN human rights chief compares Donald Trump, Nigel Farage and Isis in extraordinary speech https://t.co/zctIqguMi7

— The Independent (@Independent) September 5, 2016
He called the anti-Muslim campaign led by Wilders in the Netherlands "grotesque" and warned that the rise of populists could turn violent.
"Communities will barricade themselves into fearful hostile camps with populists like them and the extremists as the commandants. The atmosphere will become thick with hate; at this point it can descend rapidly into colossal violence: we must pull back from this trajectory."
Wilders is leading opinion polls ahead of March 2017 parliamentary elections in the Netherlands. Among his key campaign pledges are to close the country's border to Muslim immigrants, shut down mosques and ban the Koran. He also wants to leave the European Union.
U.N. human rights chief: Dutch rightist leader Wilders' election platform 'grotesque' https://t.co/NV3zwPw1Hcpic.twitter.com/umHvwjON7T

— Reuters Top News (@Reuters) September 5, 2016