SOS Children's Villages wins Princess of Asturias Award
Comments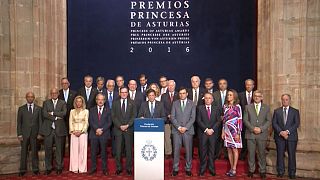 The 2016 Princess of Asturias Award for Concord was announced today in Oviedo, Northern Spain.
The prestigious 50,000 euro prize – Spain's version of a Nobel Prize – was awarded to SOS Children's Villages International, an organisation dedicated to orphaned children.
The Concord was the final of eight Asturias awards to be announced this year. Other categories include Sports, Social Sciences and Communication.
Jury president Javier Fernández Fernández said: "The jury of the Princess of Asturias Award for Concord 2016 decided to award the prize to SOS Children's Villages for their contribution for more than 70 years and in 134 countries, to the protection of children through pioneering principles that become even more effective in moments in which international conflicts put, at particular risk, the most vulnerable."
SOS Children's Villages is a non-governmental and non-denominational organisation dedicated to abandoned and destitute children who require family based care.
It provides some 50,000 children and 15,000 young adults with a permanent new family and works to prevent family breakdown and care for children who have lost, or risk losing, parental care.
Typically 10 children are grouped together in a house with what is known as an SOS mother. There are up to 40 houses in a village with shared facilities.
There are more than 540 SOS Children's villages in over 130 countries, in Africa, the Americas, Asia and Europe.
Past winners of the Concord Award include the Spanish Organization for the Blind, Unicef and British author J. K. Rowling. All eight Princess of Asturias Awards will be officially handed out at a gala in Oveido in mid-October.
The Princess of Asturias Foundation is a non-profit private institution whose essential aims are to "promote scientific, cultural and humanistic values that form part of the universal heritage of humanity".