Poroshenko warns Ukraine parliament wind of change may blow friends off-course
Comments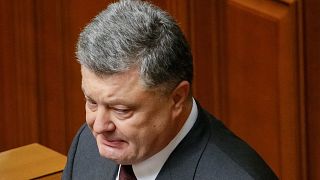 Ukraine's parliament has resumed business after the summer break, and gathered to hear some warnings from President Poroshenko.
He sees a rough political landscape ahead for Kyiv's search for international support in its fight against Moscow, with potential unfavourable changes in direction among key allies in election years.
"Over the course of the next year, political forces could come to power as a result of elections in several European countries that may not be extremist, but are inclined to compromise with the Kremlin and which believe that the best policy against the aggressor is conciliation," he claimed.
Tension has been high in recent weeks as fears of a Russian offensive rose, and as if the search for friends abroad was not hard enough Ukraine has plenty of internal forces seeking to destabilise the regime.
National pro-Russian private broadcaster Inter was hit by a mystery fire at the weekend, This was initially blamed on far-right protesters who had gathered outside the television studios and burned tyres, but details are now contradicting that lead.