Police smash network 'smuggling Syrians to Western Europe'
Comments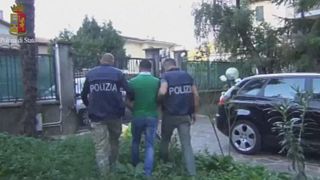 Italian police said on Tuesday that they had smashed a criminal network that smuggled hundreds of mostly Syrian refugees across the Balkans to Western Europe.
Up to 21 people have been arrested.
The suspects, mainly Syrians, but also Algerians, Egyptians, Tunisians and Lebanese nationals lived for the most part around Como in northern Italy.
But arrests are reported in several European countries in an international operation, involving the EU's judicial cooperation unit, Eurojust.
With surveillance of suspects put in place, the ring allegedly charged at least 500 euros per refugee and had a fleet of cars at its disposal, recruiting drivers in Italy.
The probe is said to have begun a year ago after an Italian was arrested in Hungary, driving a vehicle with several illegal migrants.
Italian police said the smuggling ring picked up migrants who had reached Hungary, and from there they were moved on towards Germany, Austria, and more rarely to France and Italy.
Migrants and refugees have flooded into Europe over the past three years from the Middle East, Africa and Asia, fleeing violence and poverty at home.
The so-called "Balkans route", used by hundreds of thousands of migrants last year, has been less popular since the EU and Turkey agreed to stop boat crossings from Turkey to Greece earlier this year.
But boat crossings from Libya to Italy continue at about the same rate as before, with some 100,000 arrivals so far this year.
Italy rescues 500 boat migrants, six bodies off #Libya Reuters https://t.co/OyGXTu7NiNpic.twitter.com/Z7anaiDMkU

— Reuters Africa (@ReutersAfrica) 5 septembre 2016