Clinton hints at Russian interference to elect Trump
Comments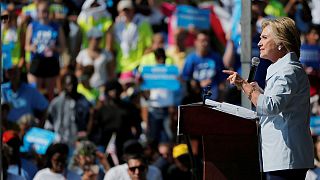 Hillary Clinton has hinted that Russia might have interfered with the US election process to try to help Donald Trump.
The Democratic presidential candidate in November's poll was giving a rare impromptu news conference aboard her campaign plane after a trip to Ohio.
She accused her Republican rival of having a fixation for dictators – putting the Russian leader in that category.
"He, very early on, allied himself with Putin's policies. I mean to pull out of NATO for goodness sakes. Right? And he furthermore has praised Putin, he seems to have this bizarre attraction to dictators – including Putin," Clinton said.
Also campaigning in Ohio, Donald Trump promised to bring back jobs and get rid of what he called "horrible trade deals".
He has described as sarcastic his previous comments calling on Moscow to unearth emails from Clinton's time as US Secretary of State.
His rival has linked Russian intelligence services to a cyber attack on the Democratic National Committee.
Hillary Clinton concerned about "Russian government interference" in US election https://t.co/8lkiSIDTMh

—

POLITICO

Europe (@POLITICOEurope) September 6, 2016