Bayer raises bid price for Monsanto
Comments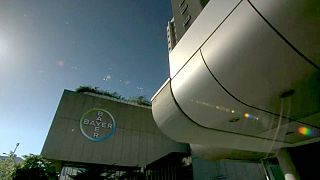 Bayer's quest to become the world's largest producer of seeds and pesticides has led it to bump up the price it is willing to pay for US firm Monsanto.
The German company – best known for making Aspirin – is now offering more than $65 billion (58 billion euros) – a two percent increase on its previous offer.
Some Bayer shareholders are unhappy about the proposed merger, concerned that its pharmaceutical business would be neglected as it moves further into agriculture.
There are also worries about how much the Germans will have to borrow.
Greg Herbert, co-manager of the Jupiter Global Equity Income Fund, said: "The company will be left with a highly geared balance sheet and the management effort to integrate the two businesses could easily lead to the larger pharmaceutical business being neglected."
Another fund manager, John Bennett of Henderson, said: "Bayer have backed themselves into a corner. The money would have been better spent buying their own stock. Alas, for shareholders, it was not to be."
Bayer raises offer to buy Monsanto, valuing the company at over $65 billion, including debt https://t.co/KM67FrRaxdpic.twitter.com/pq1QZL4FtE

— Wall Street Journal (@WSJ) September 6, 2016
Bayer wants to combine its crop science expertise with Monsanto's strength in seeds, where it is number one, particularly for genetically modified seeds.
Even if they can agree on a price, a deal would require both to sell off parts of their businesses to win approval from competition regulators.
A deal between Bayer & Monsanto could meet major demands made by anti-trust regulators says Prof Colley guardian</a> <a href="https://t.co/NAiv2OkMID">https://t.co/NAiv2OkMID</a></p>&mdash; WBS (WarwickBSchool) September 6, 2016
Bayer was still considering all options regarding Monsanto, including striking a friendly deal, making a hostile bid or pulling its offer, a person familiar with the matter told Reuters.