Arson suspected as wildfire leaves trail of destruction in southern France
Comments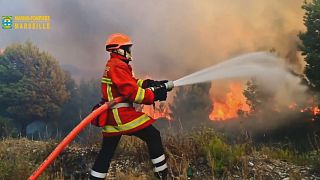 Arsonists are being blamed for a trail of destruction on the doorstep of Marseille.
It is a disaster

President, Calanques National Park
From the air and on the ground, a fierce battle has been waged to bring a wildfire under control after it ravaged swathes of vegetation – nearly 400 hectares – fanned by strong winds.
No was was hurt and homes were spared.
Nonetheless the blaze has taken a toll on the wild and beautiful Calanques National Park in southern France.
"It is a disaster," said Didier Réault, the Calanques National Park President.
"Different species and varieties had been coming back here over the last ten years or so – insects, flora and fauna that was regenerating. And as we leave nature to itself, we had Mediterranean plants. And, of course, now we have to start from scratch again or even worse than that."
Accès et circulation dans le #massif#forestier des #Calanques de #Marseille à #Cassis interdits aux piétons. pic.twitter.com/MqsoSbiNRH

— Parc des Calanques (@ParcCalanques) 6 septembre 2016
An investigation is underway into what caused the blaze.
But just before the site went up in flames on Monday, witnesses report seeing youths on a scooter close to the patch of land where the fire started.
The risk of wildfire in the region has been classed as extremely high due to strong winds and dry conditions amid exceptionally warm temperatures for September.
A number of other fires have also hit the south of France in recent days.