Venezuela says it prevented 'massacre' and anti-Maduro coup
Comments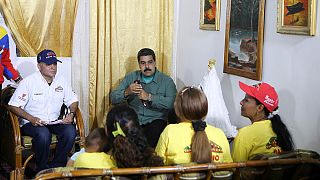 Venezuela's government said it foiled a coup plot following huge demonstrations against the country's president earlier this week.
Photos of opposition leaders accused of plotting the coup were displayed with images of a supposed training camp and seized arms.
In a separate briefing, the country's foreign minister addressed reporters.
"The national government's action prevented a massacre," said Delcy Rodriguez. "Snipers looked to assassinate citizens to sell to the world a not so nice image of our country. And we have been perpetually denouncing this. The top and elite of the Venezuelan opposition is spraying this to the world, discrediting Venezuela."
Opposition supporters blame Maduro for a long recession, triple-digit inflation, and shortages of basic items in the shops.
They said that youths who clashed with police after a peaceful anti-Maduro rally were troublemakers.