Uzbekistan prepares to bury President Islam Karimov
Comments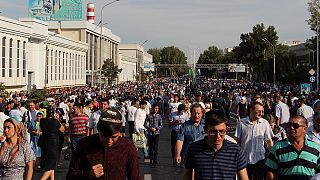 Uzbekistan is preparing to bury President Islam Karimov following his death at the age of 78 this week.
Earlier, thousands of people lined the streets of Taskkent on Saturday as the late leader's cortege headed to the capital's airport. His funeral is set to take place later in his hometown of Samarkand.
The government, which has declared three days of national mourning, only confirmed Karimov's death on Friday, six days after he was taken to hospital following a stroke.
Accused by critics of harshly repressing dissent, Karimov leaves central Asia's most populous country in a state of political uncertainty having chosen no official successor.
Uzbekistan's long-time prime minister Shavkat Mirziyoyev appears, for the moment at least, to be the most likely person to replace Karimov.
Russia's president Vladimir Putin has described Karimov's death ''a great loss for the people of Uzbekistan''