Uzbekistan buries veteran president Islam Karimov
Comments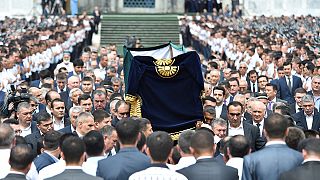 Uzbekistan's veteran President Islam Karimov has been buried in the city of Samarkand following his death earlier this week at the age of 78.
Saturday's funeral came amid continued uncertainty over who will succeed him.
The Uzbek government only officially announced on Friday that Karimov had died following a stroke.
For the moment, the ex-Soviet republic's long-time prime minister Shavkat Mirziyoyev, who was designated mourner-in-chief, appears to be in pole position to take over.
Earlier, in the capital Tashkent thousands of mourners lined the city's main thoroughfare at dawn as the late leader's cortege headed to the capital's airport.
Accused by critics of harshly repressing dissent, Karimov death has raised fears of a power vacuum in a country which is seen as a key player in the fight against radical Islam in central Asia.
Russia's president Vladimir Putin has described Karimov's death as ''a great loss for the people of Uzbekistan''.