US and China ratify Paris climate change deal
Comments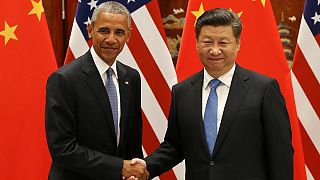 The world's two biggest polluters, China and the US, have both ratified the Paris climate change agreement.
Earlier, President's Xi Jinping and Barack Obama formally submitted their plans to join the pact to UN chief Ban Ki-moon in the Chinese city of Hangzhou.
The ratification boosts efforts to bring the deal into force by the end of the year and comes as leaders from the world's 20 biggest economies prepare to meet in the city for a G20 summit.
China and the US together total around 40 percent of the world's carbon emissions.
The Paris pact was sealed last December and seeks to stop average temperatures rising above 2C compared to pre-industrial levels. To come into force it needs the participation of 55 countries, representing 55 percent of global emissions.