Venezuela opposition stages huge anti-Maduro rally in Caracas
Comments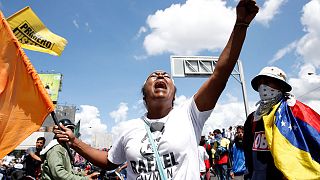 Venezuela's opposition vowed to keep up pressure on President Nicolas Maduro after more than a million people protested on the streets of Caracas against his government.
They blame Maduro for a long recession, triple-digit inflation, and shortages of basic items in the shops.
As the rally was wrapping up, the head of the opposition Democratic Unity alliance outlined the next steps in its campaign to force Maduro from office.
"Today is the beginning of the definitive stage of our struggle," Jesus Torrealba told supporters.
He called for a nationwide demonstration of pot-banging on Thursday night to protest growing hunger.
Pro-government rallies
Counter rallies also took place. Maduro joined his supporters for one, singing on stage and pumping his fist in the air.
"We captured top members of the right wing who wanted a coup and who had plans to place bombs, had weapons, who had plans to attack their own people," said Maduro.
The rally in #Caracas showed that most Venezuelans want a peaceful change for our country. #1Spic.twitter.com/AkAt3fC9Ke

— Mariana_Atencio (@marianaatencio) September 1, 2016
Recall referendum
An official process is underway to gather support to oust Maduro from power in a referendum.
The opposition needs to collect four million signatures to support ousting Maduro from power to progress towards the vote.
Timing is important. If Maduro loses a referendum this year it would trigger a presidential election that the opposition would likely win.
Maduro has consistently said it will not happen this year. A vote next year would allow his vice-president to take over until the end of his term.
#1S Al menos cuatro detenidos tras "Toma de Caracas" https://t.co/Ah318BlLkupic.twitter.com/ktJu9WpRfw

— Daniel Murolo (@dmurolo) September 1, 2016