Trump vows never to recognise illegal immigrants in hardline speech
Comments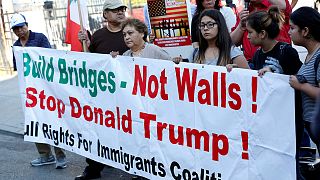 Republican presidential nominee Donald Trump has declared he would offer no amnesty to anyone who is in the United States illegally.
During a major policy speech in the border state of Arizona, Trump took a dim view of the 11 million people who had crossed into the US illegally and said he would also crackdown on those who have committed serious crimes.
"I'm going to create a new special Deportation Task Force focused on identifying and quickly removing the most dangerous criminal illegal immigrants in America who have evaded justice, just like Hillary Clinton has evaded justice"
Trump was later joined by representatives of families of people killed by illegal immigrants.
He also promised to suspend immigration from Syria and Libya as a way of carrying out his proposed ban on Muslims from some countries.
The speech is being seen as Trump's response to critics who have accused him of "flip flopping" over immigration issues having flirted with a softer approach,
View on social media
Ann Coulter: Trump's immigration speech is "the most magnificent speech ever given" https://t.co/m2ytzpRQJ4pic.twitter.com/WUnw00gFFY

— The Hill (@thehill) September 1, 2016
Again, this is what Trump is excavating. The GOP needs to decide if they're ok with that. https://t.co/il81vRF9wf

— Joy Reid (@JoyAnnReid) September 1, 2016
"To the extent there was a pivot, it appeared to be from the hard right to the alt right." https://t.co/TGLjMKJ44l

— Gabriel Snyder (@gabrielsnyder) September 1, 2016
There may not be enough cute pet pics in all of Twitter to wash away the stench of Trump's speech. But let's try. pic.twitter.com/RDX8m1lle2

— John Aravosis (@aravosis) September 1, 2016
[An earlier version of this story reported that Trump had promised to deport all illegal immigrants. While he has made such a claim previously, in his Phoenix speech he said that all immigrants would have to return home first if they wished to get legal status in the US]