Too many people were ill-informed before Brexit referendum, say campaigners
Comments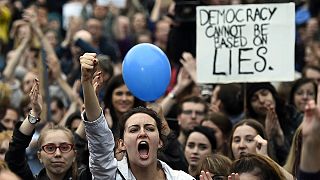 Britain's EU referendum had 'glaring democratic deficiencies' and too many voters felt ill-informed, campaigners say.
The Electoral Reform Society (ERS) hit out at the quality of the debate, saying misleading claims were being made 'with impunity'.
There were controversial claims from both sides in the referendum, which saw the UK vote to leave the EU by 51.9 percent to 48.1 percent.
Remain's assertion that Brexit would cost households £4,300 (5,112 euros) a year by 2030, was judged to be misleading by a committee of British MPs.
They also criticised Vote Leave's poster which claimed leaving the EU would free up £350m a week for the NHS, saying the sum was far less than this. In any event, Nigel Farage backtracked on the pledge just hours after the referendum result.
What were the problems around Britain's EU referendum?
Will Brett, head of campaigns and communication at ERS, said: "There were glaring democratic deficiencies in the run-up to the vote, with previously unreleased polling showing that far too many people felt they were ill-informed about the issues; and that the 'big beast' personalities did not appear to engage or convince voters.
"The polling also shows that voters viewed both sides as increasingly negative as the campaign wore on. Meanwhile, the top-down, personality-based nature of the debate failed to address major policies and subjects, leaving the public in the dark.
"It's clear that the EU debate was in stark contrast to the Scottish independence referendum, which for all its faults undoubtedly featured a vibrant, well-informed, grassroots conversation that left a lasting legacy of on-going public participation in politics and public life.
"There are so many lessons to be learned from the EU campaign – from the effect of a too-short campaign period to the fact that misleading claims could be made with impunity."
Nine ways Britain's referendums could be improved
ERS has called for a full review of how referendums are conducted in Britain.
It has also recommended the following changes:
Extending the vote to 16 and 17 year olds and improving citizenship education in schools.
Extending the campaigning period to a minimum of six months, to give the public more time to get to grips with the issues.
The Electoral Commission should publish rules which campaigners must adhere to.
There should be more time for scrutinising and shaping the referendum process and rules, during the legislative phase.
An independent body should publish basic data to help voters come to an informed choice.
An official body should be empowered to intervene if overtly misleading information is published during a referendum campaign.
The Electoral Commission should provide a toolkit to help voters host their own discussions about the referendum.
There should be a 'publicly-funded resource' for stimulating debate around the referendum question.
Public broadcasters should think about having programmes that foster discussion, rather than being too combative.