Florida braces for first hurricane in more than a decade
Comments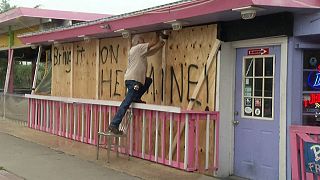 Florida is bracing itself for what is set to be the first hurricane to hit the state in more than a decade.
Tropical Storm Hermine has picked up strength, blasting its way toward the state's northern Gulf Coast, and is now classified as a hurricane.
Winds are expected to be around 120 kilometres per hour by the time it makes landfall.
The message to people in Florida is be prepared.
"Just remember this, we cannot rescue you in the middle of a storm. You're responsible as we go through this storm. We will do everything we can to help you prepare, but you are responsible," warned Florida Governor Rick Scott.
"Once we can send first responders safely to help you, we will, but hopefully, if everyone's prepared, that will not happen."
Wehave multiple hurricanes in the Atlantic for the first time sinceSeptember10, 2012. #Hermine#Gastonpic.twitter.com/XIdpLbpyIK

— Philip Klotzbach(@philklotzbach) 1 September2016

Residents are battening down the hatches.

A state of emergency has already been declared in 51 of Florida's 67 counties and some people are being evacuated.:

"We're really metaling up the windows from the hurricane here at Cedar Key that's supposed to hit us here soon," said Tony Frazier, one of those protecting buildings.

"This does the trick for what we have to do on the properties here. There's no way to make anything safe. It's mother nature."

After battering coastal Florida, Hermine is expected to barrel across the northern part of the state into Georgia, then slam southern US coastal regions on the Atlantic.

Tropical storm warnings have been issued through parts of North Carolina.
BREAKING: #Tropical storm warnings issued for parts of NE FL, SC coasts. Watches extend to Surf City, NC. #Herminepic.twitter.com/OLbUb0dzqW

— The Weather Channel (@weatherchannel) 1 September 2016