Diplomatic efforts to save EU-Turkey migrant deal
Comments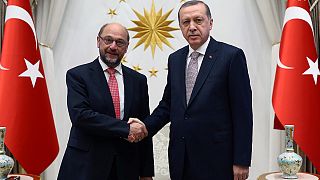 Building bridges in Ankara, the European Parliament President Martin Schulz met with the Turkish leader Recep Tayyip Erdogan to work out their differences on the EU-Turkey migrant deal.
Ankara was promised visa-free travel in return for stemming the flow of migrants to Europe. Though rifts remain ahead of the
October 1st deadline for implementation of visa liberalisation Schulz struck a conciliatory note saying, "I have once again made it clear that the European Parliament insists on the implementation of all criteria including the reform of the anti-terror laws. I have also made it clear that the whole procedure is still open, it is not finished, and that both sides can move towards each other."
Schulz is the first EU leader to visit Turkey following the failed coup. While Europe condemned the putsch, it also expressed concerns over the mass arrests which followed it, further straining ties.
Turkey defended its anti-terror laws as necessary to due to threats from ISIL and Kurdish militants, officials also stressed July's failed coup as adding to security concerns. Turkish Prime Minister Binali Yildirim said, "It is an issue regarding Turkey's safety. It is also necessary for Europe's fight against terror."
The migrant deal could still unravel. According to the UN's refugee agency in Europe Turkish liaison officers on Greek islands have been withdrawn making deportations impossible.