Migrant arrivals in Italy surge
Comments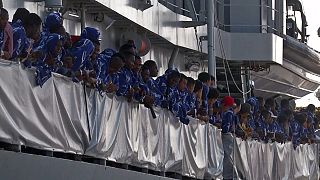 At least 13,000 migrants have arrived in Italy in just four days as numbers being rescued in the Mediterranean surge.
Good weather has meant more people have been packed onto boats, many setting sail from Libya.
The spike in numbers arriving on European shores comes as the leaders of Germany, France and Italy will meet with Turkey on the sidelines of the G20 summit in China.
Ankara is threatening not to implement a deal to stem the flow of migrants to Europe unless the EU agrees to visa-free travel for Turkish citizens. Brussels insists that Turkey must fulfil all of the conditions of the deal.
Germany and Italy also showed a hardening of their stance on economic migrants, announcing that they would step up efforts to send back migrants who had no claims to asylum.