Greece launches controversial TV licence auction
Comments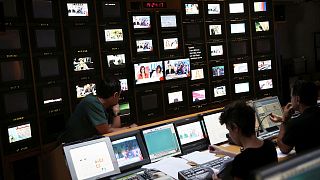 Greece has launched a multi-million euro auction for four private TV licences despite protests by broadcasters.
There are currently eight national broadcasting channels.
Existsing operators who fail to secure a licence will have 90 days before going off air.
The government says the move will help bring order to the sector which is mired in debt and discredited because of its political links.
Critics say its an attempt to muzzle the media.
Bidders include the operators of most existing channels, among them Skai TV owner Yannis Alafouzos and the Vardinogiannis family, which owns channel STAR.
Four new companies are also set to bid, including Dimera Media Investments Ltd of Russian-born Greek businessman Ivan Savvidis, who also owns the PAOK soccer club, and Alter Ego, owned by Greek shipowner Evangelos Marinakis.