Video: Disallowed goal of the year from High School striker
Comments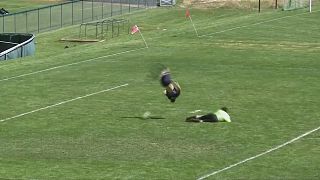 As goals go, they don't get much better than this.
This spectacular effort, worthy of a ten in Olympic gymnastics, took place during an American high school match.
Columbine High School striker Dylan Prichett-Ettner took the rather unorthodox and very daring route over the keeper to bury the ball in the back of the net.
Unfortunately the somersault goal was disallowed, but it still gets a ten out of ten for effort and creativity.