Rebel groups 'capture strategic Syrian town of Halfaya'
Comments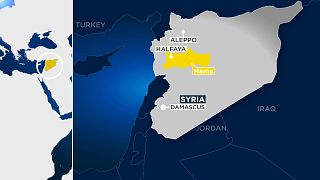 Syrian rebels are said to have captured a strategic town in northern Hama province.
Launched by the hardline jihadist Jund al-Aqsa and other brigades, the major offensive to storm Halfaya is said to threaten a number of nearby towns loyal to Syrian President Bashar al Assad's government.
Rebels managed to overrun army and pro-government checkpoints to reach Halfaya, the Syrian Observatory for Human Rights reports. It lies near a main road linking coastal areas with the Aleppo-Damascus highway, potentially connecting the rebels with jihadi fighters in the northernmost city.
"We have been able to gain control of the towns of Halfaya, Al Masasneh and several barricades in the surrounding area. We will continue to work until we reach the Hama military airport, so that we will be able to protect Hama province and to help the Mujahideen in Aleppo," said Field Commander Abu Jaafar of the Abna' al Sham brigade.
According to a Syrian military source, army airstrikes have killed dozens of rebels. No confirmation was given of whether or not the town of Halfaya had fallen. However, pro-Assad websites report reinforcement troops are being sent to take back control of the area.