Mourners gather in Amatrice for funerals of quake victims
Comments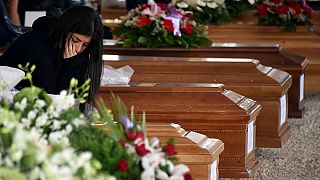 Under grey skies and rain, and surrounded by rubble, hundreds have gathered to remember the victims of Italy's devastating earthquake.
A state funeral has been held on the outskirts of the town of Amatrice for 28 people, including two children, who lost their lives a week ago.
The town destroyed in the magnitude 6.2 quake.
"Quakes have been around since the existence of the earth and before the formation of life. Quakes don't kill, it's the work of man that does," said Domenico Pompili, Rieti Bishop.
Amatrice despide a sus víctimas con funeral de Estado https://t.co/YikwZ5FlTupic.twitter.com/MXOvhEd88w

— Periódico Excélsior (@Excelsior) 30 August 2016
Italy's Prime Minister, Matteo Renzi, who has pledged to rebuild the shattered communities, was among the mourners.
Most of the dead, now topping 290, lost their lives in Amatrice.
It was a town voted last year of one of Italy's most beautiful, now it is unrecognisable. And the search for the dead continues, with up to 10 more bodies are believed to still be under the mounds of rubble.
#Italia: #Amatrice despide a sus 231 muertos por el sismo con un funeral de Estado https://t.co/ocnUHF3uD1pic.twitter.com/zx7UiTzdIF

— Diario Correo (@diariocorreo) 30 August 2016