French burkini ban ''stupid reaction'', UN human rights office says
Comments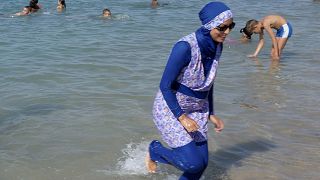 The ban on burkinis in France is not only ''a grave and illegal breach of fundamental freedoms'' but a ''stupid reaction'' to recent terror attacks, the UN human rights office has said.
Demanding its immediate end, a spokesperson for the rights agency insisted the suspension had only succeeded in increasing tensions.
"It is frankly a stupid reaction to what we are having, facing, in terms of terrorist attacks. It does nothing to increase security, it does nothing to improve public order, if anything, it stimulates friction, and therefore undermines public order. If anything, it is having a counterproductive effect," said Rupert Colville, the spokesman for the UN Office of the High Commissioner for Human Rights.
France's highest court, the Conseil d'Etat, has overturned the suspension in one French seaside town, effectively invalidating all the bans.
But French premier Manuel Valls says the debate isn't over and ripped into the Burkini ban critics. Evoking France's national symbol of freedom, a revolutionary era figure known as Mariane, who is always portrayed with one breast exposed, Valls said: ''She has a naked breast because she is figuratively feeding the people. She is not veiled, she is free. That's the republic and that's who we are.''
So named because they resemble the burka, the hooded Burkini swimwear has become the burning issue in France this summer. While the ban has been declared unconstitutional, it still remains in place in around 30 French coastal resorts.